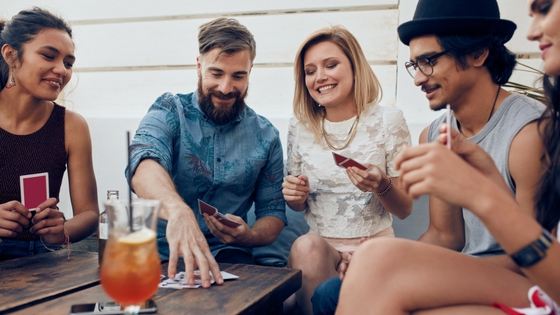 This week, Willow Hill Blog is focusing on game night! There's so much good to be said about friends coming over, eating snacks, and sitting around a table playing games in your apartment. Here are a few awesome games that we're sure you'll love. Let us know which one is your favorite.
"In the super-fast sushi card game Sushi Go!, you are eating at a sushi restaurant and trying to grab the best combination of sushi dishes as they whiz by. Score points for collecting the most sushi rolls or making a full set of sashimi. Dip your favorite nigiri in wasabi to triple its value! And once you've eaten it all, finish your meal with all the pudding you've got! But be careful which sushi you allow your friends to take; it might be just what they need to beat you!"
This is a fun, 20-minute game for 2 to 8 players, ages 8 and up.
"Each player begins by sketching a TELESTRATIONS word dictated by the roll of a die. The old fashioned sand timer may limit the amount of time they get to execute their sketch, but it certainly doesn't limit creativity! Time's up! All players, all at the same time, pass their sketch to the next player, who must guess what's been drawn. Players then simultaneously pass their guess -- which hopefully matches the original word (or does it??) -- to the next player who must try to draw the word they see -- and so on."
This is a quirky hilarious party game for 4 to 8 players, ages 12 and up.
"Accuse and defend your fellow townsfolk as you hunt down the witches of Salem. Act fast, before conspiracy turns you against your own."
This is a great party game that will leave everyone guessing who the witches are. Just hope that you don't get accused yourself! For 4 to 12 players, ages 12 and up.
"Captain Sonar is an innovative real-time game that challenges two teams to take their submarines head-to-head in a thrilling battle. Your ultimate goal is to find and destroy your opponent's submarine, but this task is far more difficult that it may first appear. Your entire crew must work together to chart a course, charge systems, locate the enemy, and keep your own submarine fully operational. Communication and teamwork can lead you to victory, but if you fail to cooperate, you'll be sunk to the bottom of the ocean!"
This game is for 2 to 8 players, ages 12 and up.
"Wits & Wagers is a trivia game that lets you bet on anyone's answer. Do you know the average number of pizza slices eaten by Americans each day? Of course not! That's the fun. No one knows the answers, but everyone can take a guess. Win by making educated guesses, by playing the odds, or by knowing the interests of your friends. It can be taught in 2 minutes, played in 25 minutes, and accommodates up to 20 people in teams."
We hope that your game night in Puyallup, WA is a blast this month! What games will you be playing? Thanks for reading.